Recipe: Stuffed red capsicum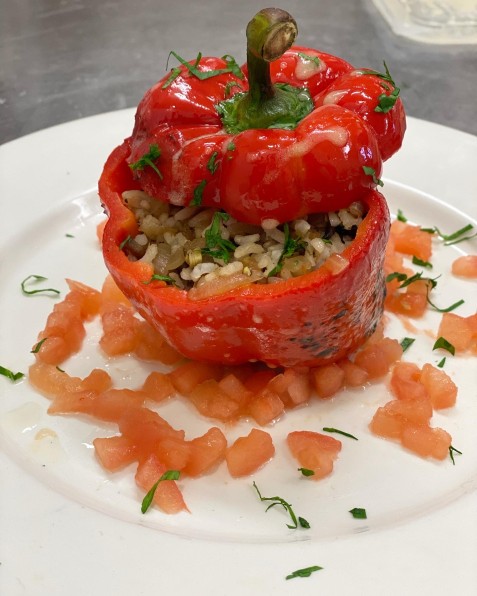 Stuffed red capsicum with brown rice, cumin, tomato and grated ginger garnished with a classic vinaigrette prepared by our Foundation students.
Ingredients
Serves 1-2
1/3 cup brown rice
1 tablespoon oil
75 g onion, brunoise
1 clove garlic
1 teaspoon cumin seeds
pinch cayenne
lemon juice
50 g tomato concassé
1 teaspoon fresh thyme, chopped
1 knob ginger, peeled, grated
salt and pepper
1 red or green capsicum
extra oil for grazing
1 tablespoon butter
Optional: Mushrooms
Method
Char capsicum on gas knob. Do not over-cook. Remove skin carefully
Cook the rice by boiling and drain.
Heat a fry pan. Add oil. Sweat onions and garlic until translucent, add cumin seeds and cayenne.
Stir in cooked rice, remove from the heat. Stir through lemon juice, tomato concassé, thyme and grated ginger. Season with salt.
Cut the top of the capsicum and remove the seeds and pith.
Fill capsicum with rice stuffing and brush the skin of the capsicum with oil. Add a knob of butter on the rice stuffing and season with freshly ground pepper.
Place in a baking dish, lined with baking parchment. Bake at 180 degree C until capsicums are soft.