Recipe: Cheese cake with berry coulis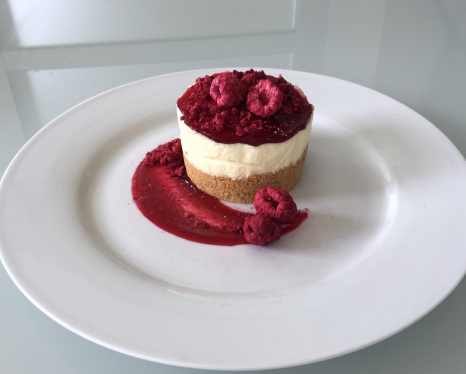 Recipe: Cheesecake with berry coulis
Cheesecake
Base Ingredients
90g digestive or superwine biscuits
30g butter

Ingredients for filling
225g cream cheese
75g caster sugar
1 teaspoon vanilla extract
Zest of 1 lemon
1 and half leaves of gelatine
75 ml cream (for whipping)
2 - 3 tablespoons cream (to heat with gelatine)
Method
Melt the butter.
Crush the biscuit finely in a food processor or with a rolling pin. Mix in the butter. Mould firmly into a 13 cm spring mould tin. Place in the fridge to set.
In a bowl or food processor, mix the cream cheese, sugar, vanilla and lemon zest. Combine until sugar has dissolved.
Whip the cream lightly.
Soak the gelatine in cold water for a few minutes
Take the gelatine out of the water - squeeze off the excess water.
Put 2 - 3 tbsp of the cream into a pot or microwave. Heat gently. Add the soft gelatine so it melts completely.
Stir in the gelatine-cream into the cheese mixture and at the same time incorporating the whipped cream.
Place the cheese filling onto the prepared biscuit base. Cover with plastic wrap.
Place in fridge until firmly set.
Decorate with fresh fruit (raspberries, apricots, blueberries).
Berry fruit coulis
Ingredients
60g caster sugar
150g frozen berries (raspberries work well)
100ml water

Method
In a pan heat the sugar, berries and water until soft.
Allow to cool. Purée and sieve.
The coulis should be the consistency of a thin sauce.