Preparing the Urban Forage Lunch
With our Urban Forage Luncheon in March 2023, the challenge is to come up with a menu to reflect the seasons and at the same time share some aspects of our cuisine that people are less familiar with.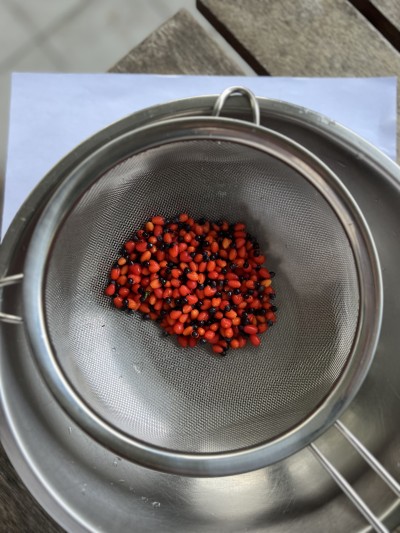 This March, the highlight has to be Riki Bennett's foraged Kaihikatea berries that he laborously collected in the Waitakere Ranges. What a treat to taste these delicate koroī that had light flavour of eucalyptus and sour cherries. They were then transformed into a light jelly to accompany the pork.
Kahiatea koroī (berries) in a Hawkes Bay Rosé with a little sugar and set with gelatine.
The Kai-Cooker is powered by gas and situated on our balcony.
For the canapés
Corn cobs were smoked for 15 minutes with manuka wood chips in the Kai Cooker. The foil packet of manuka chips was removed and water poured into the base to enable the corn to steam.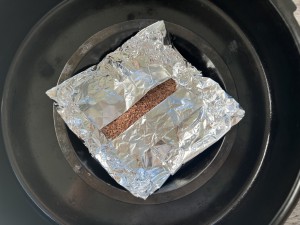 A packet of manuka wood chips, ready to be placed in the Kai Cooker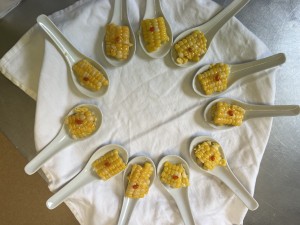 Smoked Corn with melted butter. The result was subtle smokey toast with the crunch of fresh corn and melted butter.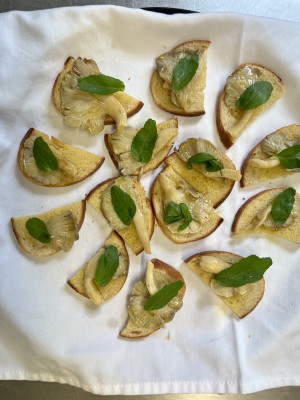 Panfried oyster mushrooms and butter on rewena (traditional potato bread) and baked off as crostini.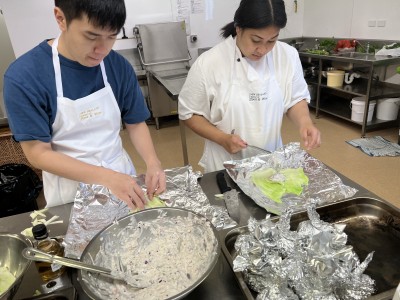 Palusami prepared by our cookery students. Steamed cabbage, coconut cream, chilies, plantain (green bananas) wrapped up in a foil package.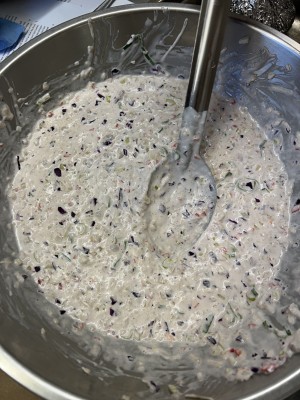 Coconut cream, chilies, plantain (green bananas).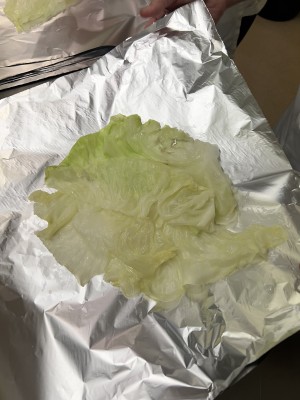 Steamed cabbage to wrap the coconut mixture inside before baking in the oven.
On the Buffet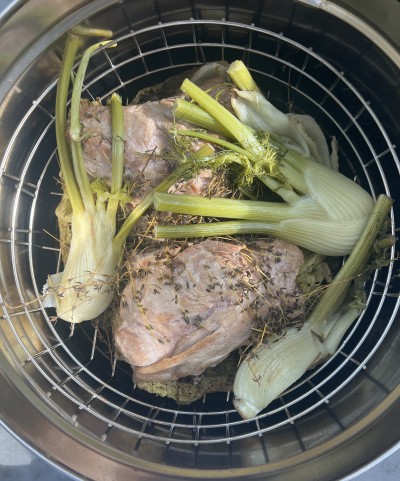 Kai-cooker smoked and steamed Pork Loin with whole fennel.
The pork loins were place in brine (2% salt) overnight and then smoked with manuka chips for 30 minutes. The manuka chip packet was removed and water poured into the base of the Kai-cooker to steam the pork. It took about 90 minutes for the pork to reach 75C internal temperature and then left to rest. At the buffet, the pork was served with blanched Kawa kawa, spinach and canola oil purée.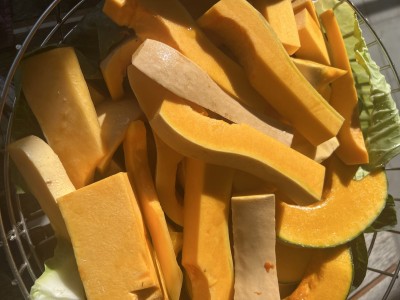 Kai-cooker smoked & steamed butternut squash, pumpkin, steamed spring onions. The baskets were lined with cabbage and the vegetables heavily seasoned with salt!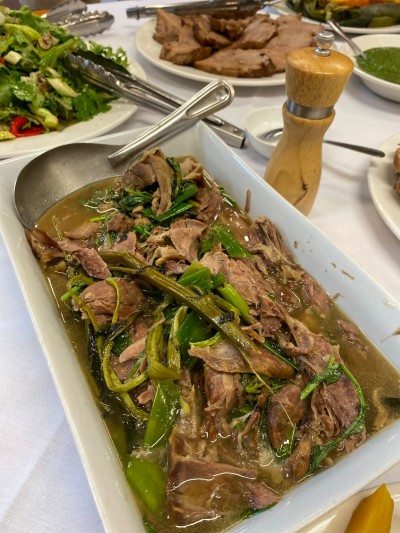 Boil-up of Lamb shanks with puha, spring onion, watercress was prepared in the kitchen.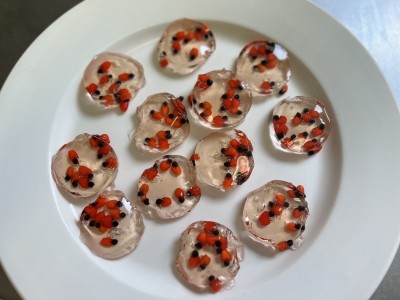 Kahikatea koroī (berries) infused in Rosé wine jelly served as a condiment for the pork.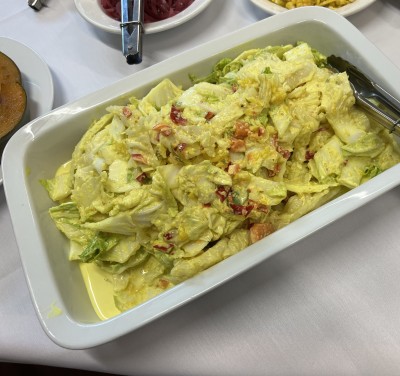 Autumn Cabbage in Piccalili Chilli Mayonnaise or Remoulade.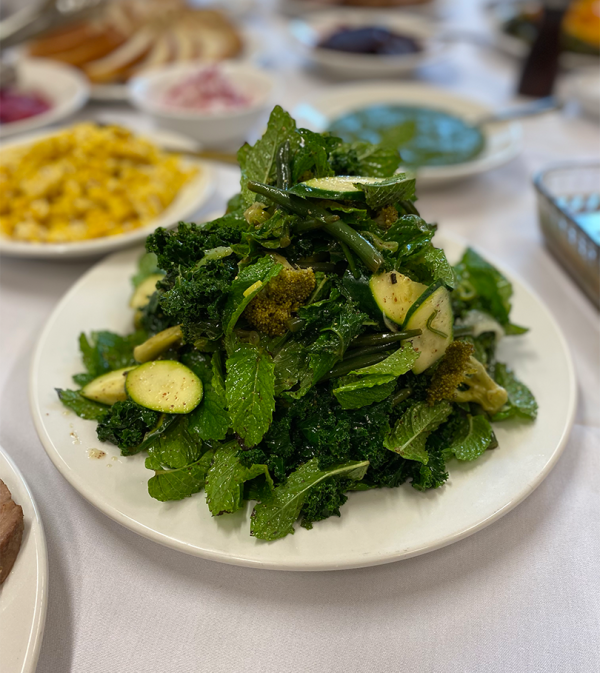 Kale, watercress, coriander, mint: Kawkawa mustard vinaigrette.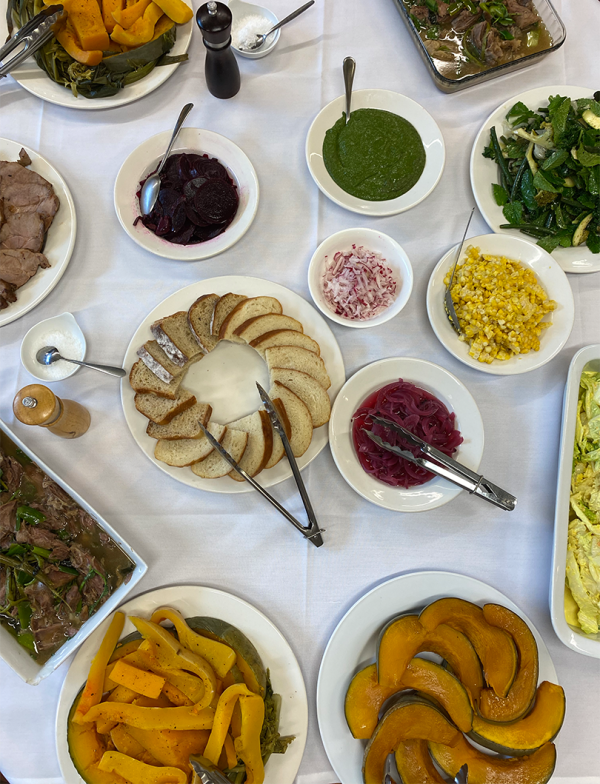 View over the buffet table.
Dessert

Golden Steamed pudding w Gala apples, Rewa Rewa & Manuka honeycomb, Chantilly cream.
Riki lights the fire