WSET & New Zealand Wine Week
For a long time, New Zealand wine exports have been dominated by Sauvignon Blanc and Pinot Noir with small quantties of Chardonnay and Bordeaux blends plus more.
During New Zealand Wine Week (7-11 February 2022), WSET gathered together a panel of three expert educators to discuss emerging wine trends and grape varieties and at the same time considered the impact of New Zealand Winegrowers policy of sustainable wine growing (SWNZ) on the New Zealand industry.
Celia Hay, Director of New Zealand School of Food and Wine and author of the New Zealand Wine Guide was part of this panel. Other panelists were Michael Darby and Jane Skilton.
Celia's presentation is sumarised below. The full presentation, broadcast to over 200 participants from around the world is also available on the WSET Youtube Channel:
https://www.youtube.com/watch?v=QCmXfQagJVM Celia's presentation starts after 23 minutes of viewing to 32 minutes.
Wine Production 2021
Sauvignon Blanc remains the king (or queen) of New Zealand wine, making up around 72% of annual production.
Sauvignon Blanc 72%
Chardonnay 6%
Pinot Noir 6%
Pinot Gris 5.5%
Syrah 0.7%
Sustainable winegrowing in New Zealand
New Zealand Winegrowers, the parent body of the wineries and growers in New Zealand launched Sustainable Winegrowing SWNZ in 1995. Today this includes a certification programme to monitor improvements and adherence to sustainability standards. SWNZ has have the following focus areas: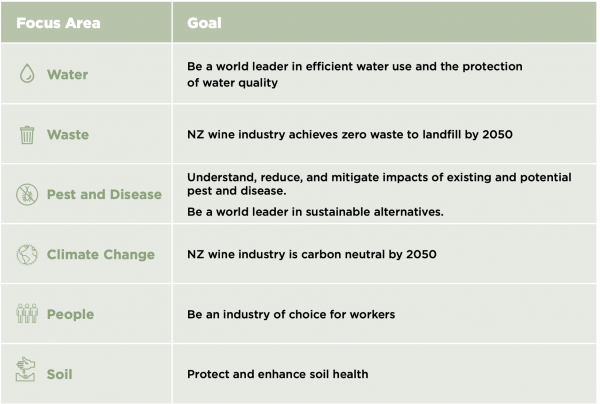 From NZ Winegrowers Annual Report 2021:
"Today, 96% of New Zealand's vineyard producing area is SWNZ certified, with another 10% operating under recognised certified organic programs.
Over 90% of the wine produced in New Zealand is processed in SWNZ certified facilities. This level of industry-wide participation in a sustainability scheme is a massive point of difference for wine produced in New Zealand. SWNZ certifies all parts of the production chain including vineyards, wineries, bottling facilities, and brands".

You may recognise the logos above as they often appear on bottles of New Zealand wine to designate certification for sustaintainable practices. Asure Quality and Biogro New Zealand certify organic wines, a growing catergory. Demeter and Biodynamics is a more challenging certification and there are far less wineries in this category. However, the wineries that are Demeter remain some of the leaders of the broader organics movement in New Zealand: James and Annie Millton from Gisborne; Felton Road, Quartz Reef and Rippon from Central Otago.
Climate Change and Carbon emissions are an important focus for a country like New Zealand, whose key export products include food, beverages and wine. New Zealand Goverment policies on carbon emissions and reductions are starting to impact everyone from businesses to what you do in your own home.
We are now starting to track, calculate and quantify how our personal and work activities contribute to greenhouse gas emissions. In New Zealand, we are also focused on water sovereignty. These are big, complex subjects with no quick fix solutions and lots of forms to fill in!
As an export focused country we are also aware of how we get our products to international markets. It's important to remember that in 1990 New Zealand wine exports were under $NZ20 million. By 2020, exports had risen to $2 billion and most of this growth in on the back of Sauvignon Blanc. This is an extraordinary success story. Now, we are reviewing how these products get to market and their carbon footprint. See below.
There is research into developing more drought-tolerant species of vines and looking at the role of water used in irrigation. Analysis of data collection is framing these discussions.

Organic Winegrowers New Zealand
There are now over 200 certified Organic Wineries in New Zealand and this demonstrates the widely held committment to sustainable practices. Learn more about Organic Wines of New Zealand from this special map below: https://www.organicwinenz.com/copy-of-regional-guide-1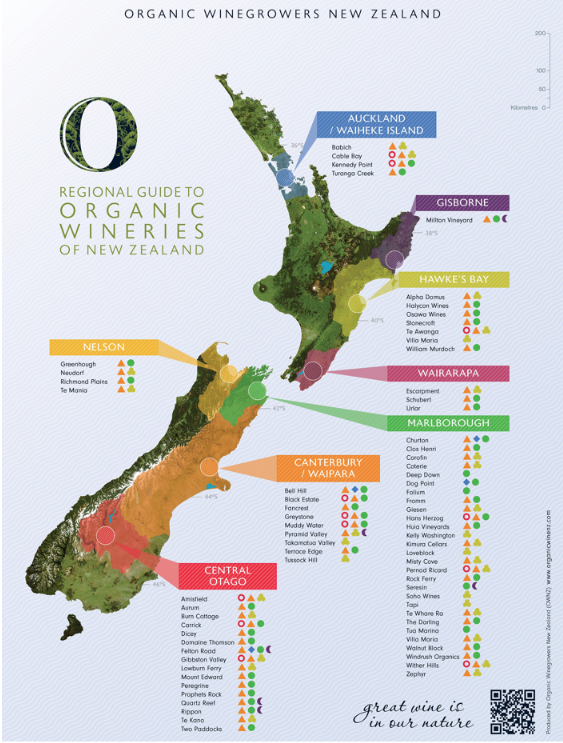 In New Zealand, we can't wait to open our borders, enabling wine lovers to travel here and discover for yourselves our diverse and beautiful wine regions and local wines.
Many New Zealand wines, made from lesser known grape varieties, are produced in such small quantities that it's hard to find them exported outside of New Zealand. You can find these wines in our leading gastronomic restaurants, bistros and cafes or at the vineyard cellar door...
So you will need to come over and discover for yourself!
Celia Hay 8 February 2022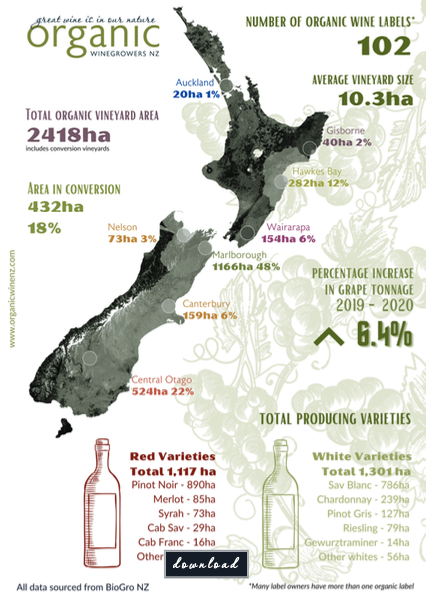 NZ Wine Statistics and Annual Report
https://www.nzwine.com/en/media/statistics/annual-report/
Wine exports
https://www.nzwine.com/en/media/statistics/nz-wine-kpis/
NZ Wine Instagram
https://www.instagram.com/nzwinegrowers/
WSET - Wine & Spirit Education Trust
Click here for more information on WSET and NZ Wine courses.