Introduction to New Zealand Wines, Regions, History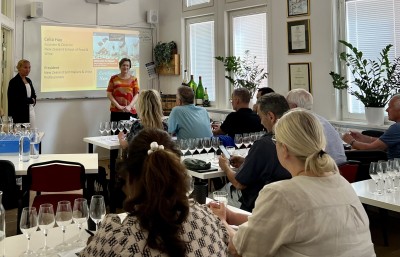 As I prepared for a tasting of New Zealand wines, for the Swedish Sommelier Association, with a pathway to study the Certificate in New Zealand Wine Micro-Credential, I also contemplated on our nation's shared experiences. In addition, it is interesting for the Swedes to learn about the rapid transformation of New Zealand's wine sector since the 1990s of the New Zealand wine sector and discover some of the visionary people and wineries behind this growth.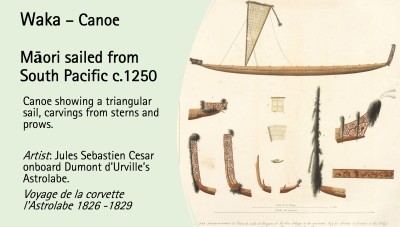 Like the Vikings, our Māori ancestors were sailors and warriors, using celestial navigation to sail the oceans. They built canoes with sails, and used celestial navigation to explore the oceans and settle in New Zealand around 1250 CE.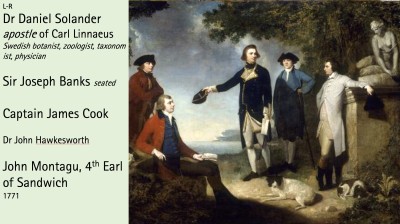 There is a deep Nordic connection with Captain James Cook's first voyage on the Endeavour. The scientific team, led by Joseph Banks, included Dr Daniel Solander, a student and apostle of Carl Linnaeus (1707-1778), the renowned Swedish botanist and developer of the system of naming organisms that we use today. There were three draughtsmen engaged to draw and record the discoveries of the naturalists. Herman Spöring, a skilled draughtsman from Finland, was part of this team.
Following Cook's expeditions and his annexation of Australia in 1770 on the basis of discovery, but not New Zealand, the British Government moved to establish penal colonies. In 1788, the Australia's First Fleet of 11 ships arrived at Botany Bay (named by Cook for his botanists) New South Wales. On board were convicts, military personnel, administrators, missionaries and free settlers. The missionaries would go on to establish farms and schools.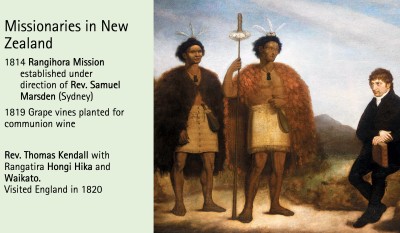 New Zealand was favoured for whaling and sealing and trade across the Tasman Sea began with some Māori also sailing to Sydney to trade. The leading Church of England missionary, Rev. Samuel Marsden, proposed founding a mission in the Bay of Islands, under the protection of local Rangatira (chiefs).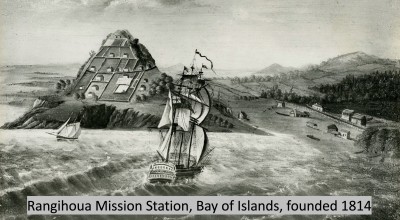 A small group of missionaries and their families arrived in 1814. They brought crops and vegetables, spades and hoes to establish subsistence farming and also established churches and schools. As missionaries, they needed wine for communion and on a visit to New Zealand in 1819, Marsden planted grape vines.

Wine in New Zealand
From those first vines, it took until 1990s for New Zealand to experience a wine revolution. Hindered by the movement towards prohibition starting in 1880s, which became the key focus of the New Zealand women's suffrage movement. Once women were granted the right to vote in 1893, each electorate was able to vote, every three years, for prohibition and to become a dry area. This continued until the 1970s.
It was the influence of immigrants from Dalmatia in Croatia, that kept the taste of wine, in a British colony that favoured beer and rum over wine. Today we have the legacy of those families in wineries like Villa Maria, Kumeu River, Babich, Brancott and so many more.
Sustainability goals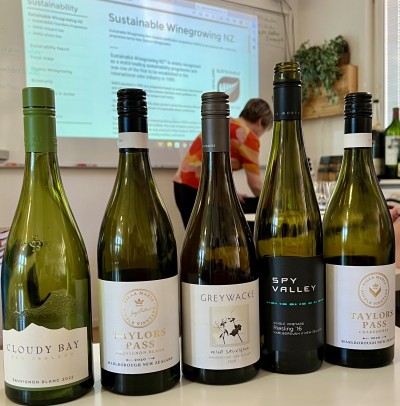 Discussion about sustainability issues and the certification systems led by SWNZ Sustainable Winegrowers New Zealand was of much interest. The growth of Organics, how to identify the BioGro symbol along with Biodynamic Demeter certification, fit comfortably with their own beliefs about good health and life balance. Food miles are a consideration when making purchases. The sommeliers were interested to learn of Indevin's plan (including Villa Maria) to set up a bottling plant in the United Kingdom.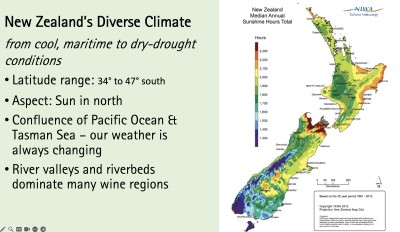 Like Sweden, New Zealand's climate is heavily influenced by large bodies of water. For New Zealand, the Pacific Ocean to the north and east, and the Tasman Sea to the west. As a long thin country, the location of different wine regions determines the styles of wine they produce. Warm, wet and humid weather systems, that form in the tropics to the north of New Zealand influence vine growth and health in a different way than what is experienced in Marlborough, whose river valleys are sheltered by a series of high mountain ranges.
Sauvignon Blanc: Comparative Styles & Sub-regions
Sauvignon Blanc remains our dominant grape variety occupying 64% of New Zealand vineyards. From the Classic Marlborough Style of fresh green apples, green capsicum, herbaceous, lime and racy, high acidity, we are now seeing more experimentation. Cloudy Bay Sauvignon Blanc 2022 from the Wairau Valley exemplifies this style with its distinctive elegance and vibrancy. In contrast, we tasted the Villa Maria Taylor's Pass Sauvignon Blanc 2020 from the southern Awatere Valley sub-region which showed more mellow garden peas, crushed coriander, grapefruit notes. For most of the audience, the Greywacke Wild Sauvignon Blanc 2020 offered a new construct of Sauvignon Blanc. Barrel-fermented over many months with indigenous (wild) yeasts, malolactic fermentation, lees stirring, offered a dynamic alternative to the classic style and excited the palates of sommeliers in the room.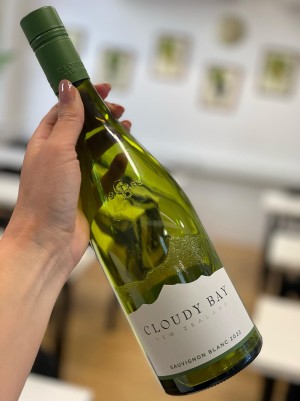 Cloudy Bay Sauvignon Blanc 2022 Wairau Valley, Marlborough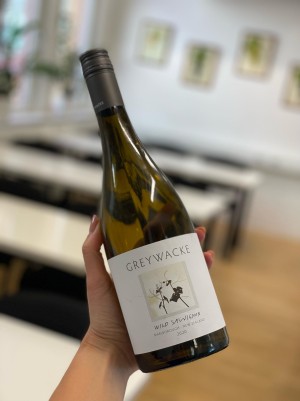 Greywacke Wild Sauvignon Blanc 2020 Southern Valleys Marlborough
Classic Wines
Spy Valley Riesling 2016 from the Waihopai Valley, Marlborough demonstrated how New Zealand Rieslings can continue to develop in the bottle. With some residual sugar, it was more reminiscent of Alsace Rieslings with a rich texture of pineapple and beeswax with hints of kerosene. The sommeliers present were not so familiar with Chardonnay from New Zealand and the Villa Maria Taylors Pass Chardonnay 2020 from the Awatere Valley proved to offer what chardonnay-lovers enjoy: nectarine, peach with toasty notes of vanilla and cinnamon from oak maturation, balanced acidity.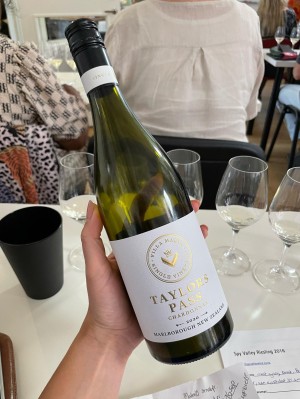 Villa Maria Taylors Pass Chardonnay 2020 Awatere Valley, Marlborough
Red Wines

Paritua Stone Paddock Syrah 2020 of Hawke's Bay provided an excellent example of how Syrah is capturing the imagination of New Zealand winemakers with bright red and black cherries, hints of lavendar and white pepper. Full-bodied, fine tannins.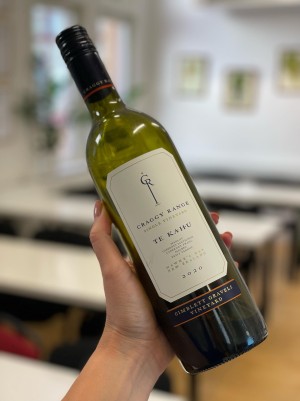 Craggy Range Te Kahu 2020 from Hawke's Bay is a Bordeaux blend of 69% Merlot, 13%Cabernet Sauvignon, 10% Cabernet Franc, 4% Petit Verdot, 4% Malbec. Again the sommeliers are familiar with French and Californian blends and were impressed by the ripe blackcurrents, plums, texture of the tannins and balance of this wine.
Pinot Noir Comparative Styles & Regions
With three Pinot Noir wines from different vintages and distinctly different regions, we were able to taste a variety of styles. The Villa Maria Seddon Pinot Noir 2019, from the Awatere Valley, Marlborough offered a cooler climate style of Pinot Noir with aromas of red cherries, redcurrants, bay leaves, sweet spice, soft tannins.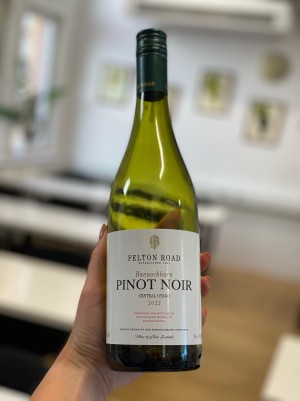 The Felton Road Bannockburn Pinot Noir 2022 from Central Otago is found at a latitude of around 46° south. Flanked by mountains on all sides, Central Otago's temperatures can soar in summer enabling grapes to fully ripen on the vine.
The Bannockburn Pinot Noir, is a blend of a number of vineyards and is bursting with ripe plums, crushed black cherries and candied violets. On the palate its soft, silky tannins and mild acidity make it very approachable now. As a youthful wine, the reward will be in the future as it continues to age.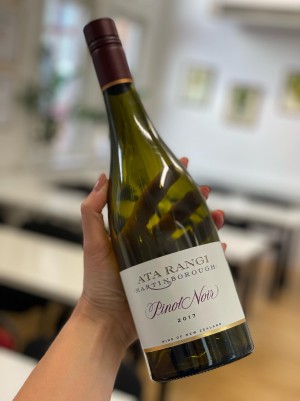 Ata Rangi Pinot Noir 2017 Martinborough, Wairarapa, North Island gave us some insights as to how premium New Zealand Pinot Noir can age. This elegant wine of baked cherries, plums with layers of cinnamon, caramel, vanilla. On other palate, flavours that indicate more maturity; mushrooms, forest floor, bacon create a layer beyond the ripe berry fruit. Smooth, balanced acidity with more tannin structure than the Felton Road wine. Lingering savoury finish. Outstanding now but will continue to develop in the bottle.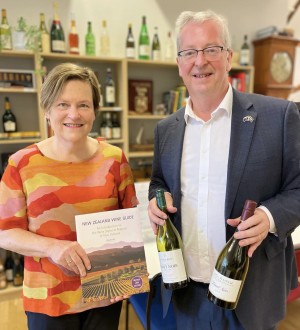 I was honoured to have David Taylor, the New Zealand Ambassador to Sweden and the Nordic Countries attend my presentation.The New Zealand Embassy and New Zealand Winegrowers supported wines from Spy Valley and Paritua.
Many thanks to Cloudy Bay, Villa Maria, Greywacke, Craggy Range, Felton Road, Ata Rangi who supported this tasting with their wines.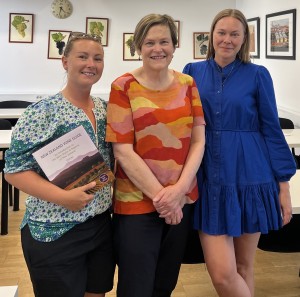 Many thanks to Janni Berndt Dahl, president Swedish Sommeliers Assocation, Maya and Danielle. Thank you to Vinkallan Sommelier School who hosted this event.
Celia Hay
28 June 2023