15 weeks of Lockdown Learning
And all through the lockdown, we have managed to keep many classes going online and then during level 3 with groups of up to 9 students cooking.
Our dedicated team of tutors lead by Chef Finn, Marlene and Franck have kept masked-up and delivering to our socially distanced, masked students.
I have primarily been teaching the WSET Level 2 and 3 wine programmes as well as LCQ and Food Safety online classes. This way we have all kept in our own bubbles.
Here are some of the photos from our 15-week lockdown journey.
We have had registrants join us from far and wide, some of the cities included Dunedin, Kaikōura, Timaru, Gisborne, Palmerston North, New Plymouth and more.
Advanced Cookery, Level 4
This dish is an Italian classic - Chicken Saltimbocca with prosciutto ham and sage served with home-made tomato pasta with brown sage butter.
Today, the students have prepared a Tarte Tatin with vanilla ice cream and a Normandy Apple Flan made with home-made pastry.
Mocktails & Bartending
Over three days our students learn the principles of mixing beverages and how to prepare and serve a selection of classic mocktails in our training restaurant/bar.
The course also included a restaurant service workshop where they learned how to set tables, interact with customers, take orders, and present food and drinks - A fun session with lots of summer flavors.
Cookery Foundation, Level 3
Certificate in NZ Wine (Foundation) Online
Diploma Cookery, Level 5 students
And we made our own BUTTER! This week our Level 5 Diploma students spent two days prepping for and baking croissants.
From shaking cream for thirty minutes to achieve a rich butter, to proving the pastry for a minimum two hours to attain the ideal puff and flake. A very technical yet rewarding few days.
We were able to run our Barista in-person classes on our premises with social distancing and limited numbers. Our students learnt a variety of recipes like Flat White, Cappuccino, Latte, Short Black, Long Black, Americano, Mochaccino and Hot Chocolate.
Compliance Courses
It has also been very exciting to be able to teach our compliance (LCQ, Food Safety & Beginners Guide to setting up your own food business at home) courses online as we are able to train hospitality staff for the busy summer period ahead of us.
WSET Level 2 & 3 Award in Wines
Enjoying 2 days of WSET Level 2 with Celia Hay and a bubble of 9. Lots of wine to sample and savour.
Our WSET Level 3 tasting started with Massolino Moscato d'Asti; Jansz Premier Cuvée from Tasmania, Piper Heidsieck NV followed by Fortified wines Tio Pepe Palamino Fino, the outstanding Del Duque Amontillado VORS 30 years also from Gonzales Byass; Cazes Rivesaltes AOC Ambré 2004; Warres Otima Tawny Port 20 years; Campbells Rutherglen Muscat and Williams & Humbert Pedro Ximenez 12 years old sweet sherry.
We then wrote formal tasting notes for the following wines in preparation of the WSET Level 3 exam on Sunday 12 December.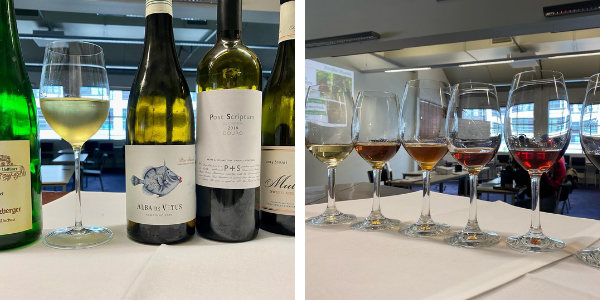 Franz Hirtzberger Gruner Veltliner Federspiel 2016;
Alba de Vetus Albarino, Rias Biaxas 2019;
Mullineux Swartland Syrah 2014 and
Prats & Symington Post Scriptum, Touriga Nacional blend 2018, Douro, Portugal
Fascinating and captivating wines for sure!
Spirits, Cocktails and Bartending
Over 5 days our students were introduced to the world of mixology and bartending while gaining an NZQA accredited Micro-Credential with 5 credits at Level 4.
Students learn to serve, advise and prepare a wide selection of alcohol-based drinks including cocktails and liqueurs.