Recipe: Chicken Kiev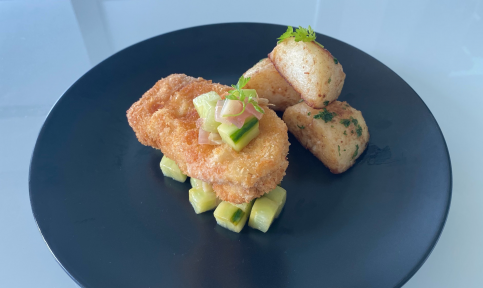 Recipe: Chicken Kiev
Ingredients
1 chicken breast
seasoned flour
1 egg, whisked
1 cup breadcrumbs
oil for shallow-frying
for the savoury butter:
40g soft butter
1 clove garlic, crushed
squeeze of lemon juice
salt and freshly cracked pepper
1 good tablespoon chopped parsley
Method
Preheat the oven to 200°C.
Prepare the garlic butter and remove the inner filet from the chicken breast. Cut a pocket into the breast from the back side with a sharp knife. Mould the butter into the pocket, and seal it by covering the pocket with the inner filet.
Dip the chicken in the seasoned flour, then in the egg wash, followed by the breadcrumbs. Repeat
this process to ensure a good coating.
Pan-fry the chicken in hot oil until golden brown.
Bake in the oven for about 12-15 minutes or until the butter has melted inside the chicken.
Serve with Cooked Cucumber, Dill and Sorrel.