Newsletter: July 2021

Winter Greetings,
For the last few weeks I have been travelling around NZ running a series of Wine Tasting Competitions for the NZ Sommeliers and Wine Professionals for which I am chair. It's been fun putting together a selection of 40 classic wines and preparing sets of questions to test our teams of winelovers.
We have used Kahoot! which has been enormously successful as a electronic quiz platform in these Covid times. It adds the results instantly and takes away the risk of calculation errors plus the backend provides detailed analytics on who got the answers to how many seconds it took to answer correctly. We know that of the 24 teams the highest scores were 75% correct with over 8 teams achieved above 68% correct. I can see we will use this platform for sometime!
It seems that interest in wines and spirits programmes is also bounding upwards and we have had record enrolments for all our wine classes including WSET Wine and Spirit Education Trust from UK.
This week I had the results of the latest WSET Level 2 Certificate in Wine and with a class of 20 students, 60% gained distinction, a pass of over 85%. Exciting.
Our NZQA Certificate in NZ Wine Micro-Credential is also going for strength to strength and we are about to start offering Corporate & Team Building wine options so that you can get together a group of 8 people and we will run a private programme.
New Zealand wines are much more diverse that most people imagine and it's a great thrill to be able to share lesser-known wineries and underrated regions with our participants as they taste through the wine selection. For more information, email admin@foodandwine.co.nz.
Coming up we have the Winter Forage with Riki Bennett which provides an opportunity to explore our native flora along with innovation around urban hāngi kai-cookery techniques. The FOODOGRAPHY Dinner is back and this year our theme is a Midwinter Christmas Dinner. Both events are part of Auckland's Elemental Festival.
On Sunday 1st August, we host the NZ Sommelier of the Year Awards along with wine tasting events and a Gastronomic Dinner prepared by Chef Finn and our students.
Ngā mihi,
NZ Somm National Wine Tasting Competition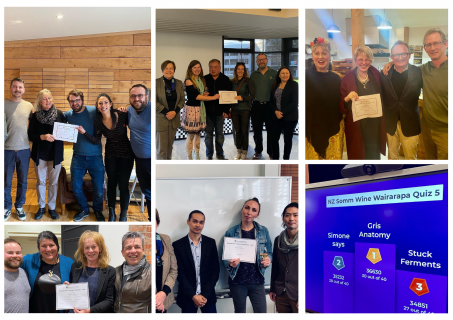 Regional winners of the National Wine Tasting Competition 2021
The National Wine Tasting Competition was held in Christchurch, Central Otago, Auckland, Wairarapa and Hawke's Bay. The National final is on Sunday, 1 August at the New Zealand School of Food and Wine.
There will also be a second OPEN CHALLENGE category for other groups to enter. How it works
Get a team together of 4 members. Teams are presented with a series of 8 wines 4 white and 4 red and asked 5 questions about each wine. Read more here.
Kingsley's Blind Wine Tasting Practice Packs
Kingsley Wood from First Glass, Takapuna has prepared two tasting sets for you and your friends to practice with. Both packs include 8 bottles of wine and a series of questions. You can order the Practice Packs through First Glass and they will couriered to your home.
Wine & Food Celebration 2021
Now in its eight year, the New Zealand School of Food and Wine's W&F Celebration runs from 29 July - 1 August 2021.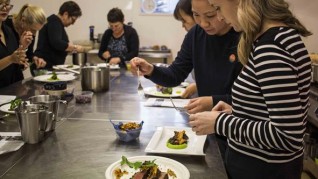 #Foodography
Bring a friend and learn how to unlock the secrets behind taking mouth-watering photos while styling your own 4 course Midwinter Christmas Menu.
Lots of fun and laughs plus you will refine your food blogging skills and there's a prize!
Thursday, 29 July from 5:00 pm - 8:00 pm

Gain the WSET® qualifications while studying the NZ Certificate in Professional Wine Knowledge Level 5 (over 12 weekends) or Diploma in Professional Wine Management Level 6 (over 22 weekends) online & classroom-based weekend programme. Free Fees and Student Loans available.
Read more in this article by Joelle Thomson.
Click here for more information.
WSET courses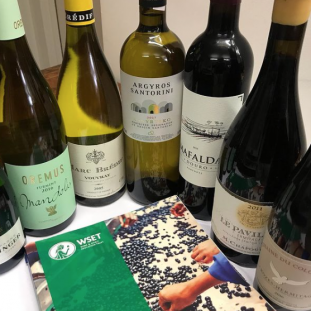 WSET Level 1 Award in Wines - Learn the language of wine, and become comfortable with aromas, flavours, structural characteristics and more! Starts17 August

WSET Level 2 Award in Wines - You will learn about the major wine growing regions from around the world, understand their grape varieties and styles of wine over 2 weekends. 7, 8, 21, 22 August

WSET Level 3 Award in Wines - The class-room based course over 4 weekends gives you a detailed understanding of the principal wines regions of the world. July 31st FULL; Next intake: Oct 30th
WSET Level 2 Award in Spirits - Develop a comprehensive understanding of the most important spirit and liqueur categories, their production and how they are transformed as beverages and cocktails.18, 19 Sept & 2,3 Oct
More dates available on our website.
Family Luncheon for Foundation Chefs & Families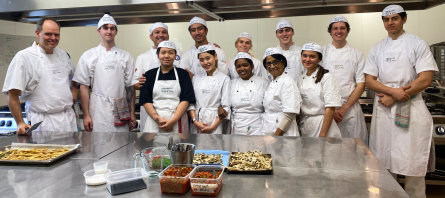 Winter flavours dominated the menu prepared by Level 3 chefs for their friends and whānau to mark the end of Semester 1 Foundation cookery.
The three course menu featured crumbed gurnard with grilled pumpkin & salsa of red capsicum followed by slow cooked Pigeon Bay Lamb with mushroom polenta, braised fennel & sherry jus. For dessert they prepared a Coxes Orange apple trifle with apple sorbet & creamy caramel to finish.
Read the full story here.
The next intake for the Certificate in Cookery, Level 3 & Level 4 begins on 6 October 2021. Look here for more information
Winter Forage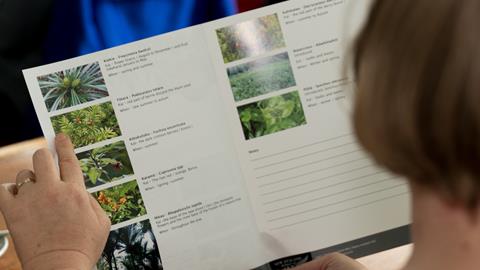 Our Urban Forage (Mahinga Kai) with Riki Bennett starts with a guided walk to identify a range of edible plants and leaves.
Saturday 31 July
Cocktails & Bartending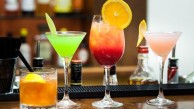 Have fun practising some classic cocktails over three evenings.
5:30 pm - 8:30 pm​
Mon, Tue, Wed
9, 10, 11 August
Artisan Breads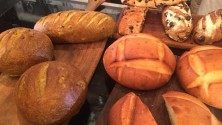 Perfect your kneading and bread-making skills.
9:30 am - 3:00 pm
Saturday, 14 August
New Zealand Wine Micro-Credential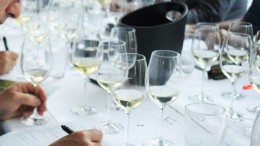 This qualification provides a comprehensive introduction to our regions, grape varieties and wine styles that have made New Zealand wines famous around the world.
Corporate Rate: Get a group together at your work.
Evening Online
7, 9, 14, 16 Sept (5pm - 8pm)
In-person
21, 22 September (9am - 3.30pm)
Get a job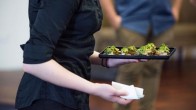 Gain skills to work in the fast-paced world of smart restaurants and trendy cafés. Learn to be a barista, taste and recommend wine and make impressive cocktails.
Certificate in Food & Beverage, Barista, Wine & Spirits is a 16 weeks NZQA qualification with 2 weeks work- placement often leading to employment with one of our partner restaurants.
Next intake: 6 September 2021.
Click here for more information.