New Zealand Chefs Emerging Chef Competition 2023
New Zealand Emerging Chef of the Year 2023
The New Zealand School of Food and Wine entered six students, currently studying the New Zealand Diploma of Cookery, in the NZ Chef's Emerging Chef of the Year Competition. We are delighted with the results. Sam Gradowski-Smith was placed 1st with Gold Medal, Sam Linstrom was placed 2nd with Silver Medal, Indira Devi, Matthias Wong and Damir Yunussov all gained bronze medals.
From winner, Sam Gradowski-Smith: 'I went into this competition to get the job done and do the best I could not just for myself but for NZ School of Food and Wine.
This being my first attempt at a competition it was nerve racking, I was happy with what I produced, and it got me the gold medal which will create memories to last forever. Next time I would try and take a deep breath and smile more - I can be a bit hard on myself…'
The New Zealand Chefs Championship for Emerging Chefs 2023 was held at Fine Foods and sponsored by Akaroa Salmon, House of Knives and Moffat New Zealand.
The students were tasked with coming up with an entrée featuring Lumina lamb and a main course featuring Akaroa Salmon along with vegetables and incorporating a Nestles product in one dish. At NZSFW, we asked the students to come up with two concepts and cost them as part of the Menu Planning Business Module where they must create a spreadsheet of quantities and costs along with a timeplan to execute their meal.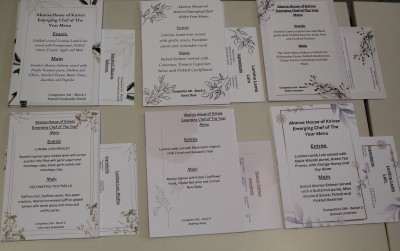 It's all in the planning and this process took a number of weeks and trials under the watchful eye of Chef Finn. This enabled the students to refine and work through their ideas and the practicalities of serving 2 courses, each of four plates, in 90 minutes.
At the Competition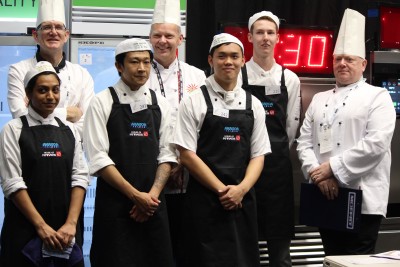 There were 4 heats with 4 candidates in each heat.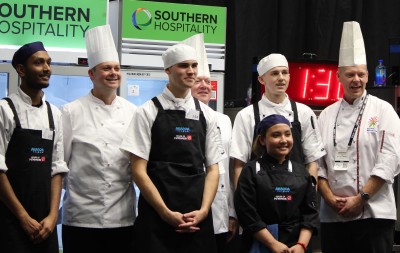 Action
'The preparation was the easy part of the competition but when we had the first practice trail, I knew immediately that thoughts and actions are two different things. We have so much going on in our mind but when it was actually on the plate, I understood what paired well and what didn't do well in the dish,' commented Indira.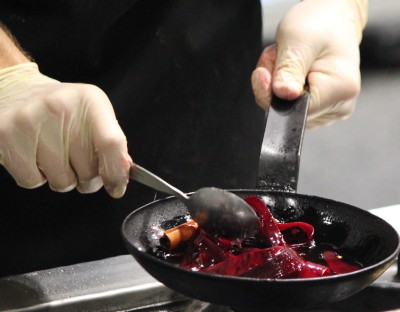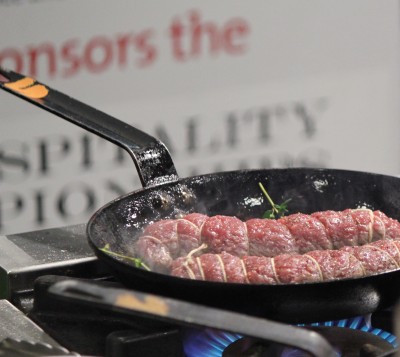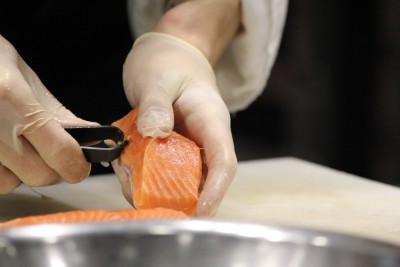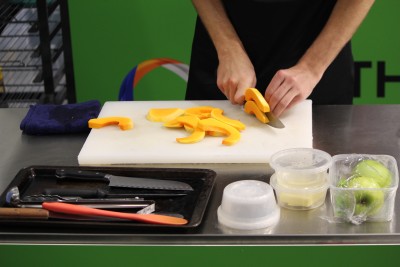 Summary of Dishes
Sam Gradowski-Smith: Gold Medal, winner Akaroa Emerging Chef of the Year
Sam works as a Chef at Culprit Restaurant and won a Moffat E23D3 oven and stand, filled with sponsors' products.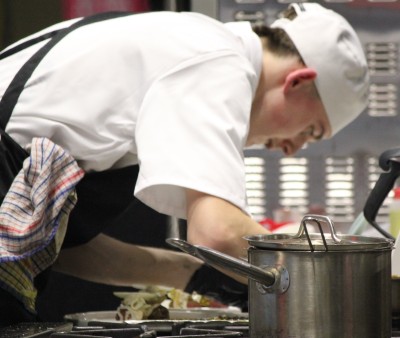 From Sam G: 'Competitions bring together all the complexities not just for food which needs to be full of flavours but timescales and processes within the restricted environment of the competition. This was my first competition so I was surprised how much input went into getting to the day of the Competition.
'Food is more like a science and within the parameters of the competition you have to find ingredients that work, having a great idea in your head and on paper. It isn't always enough because the idea may not work when plated-up or appeal to your guests.'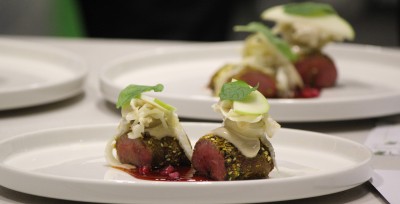 Entrée: Lumina Lamb Loin, dukkah crust, pomegranate, pickled onion, apple & fennel, black garlic yoghurt, mint
Sam: It certainly was a more daunting day than I had anticipated. Watching the clock tick as nobody wants to be late for service along and with the competition held in an open environment at the ASB Show grounds with the public watching intensifies the experience. You have to be extremely in control of everything, cooking with equipment you're not used to while keeping to the highest standards of hygiene'.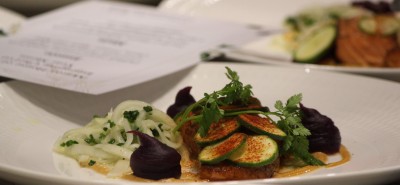 Main: Akaroa Salmon, smoked Peanut sauce, purple kumara, daikon and chive, courgette, chervil
Sam Linstrom: Silver Medal, 2nd place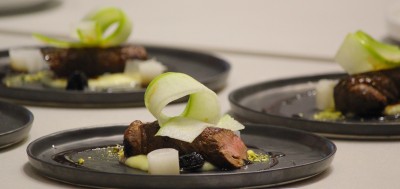 Entrée: Lumina Lamb Loin, Apple Wasabi puree, Green Tea Prunes, Pistachio, Daikon, Orange Honey and Soy Glaze.
From Sam, 'I'd say the first thing that surprised me is that when we were planning our dishes out, I thought there was no way I was going to get 8 perfect plates of food up in 90mins. Once I had a proper plan and we did our practice runs and it was almost muscle memory and I managed to be within the time with 5 minutes to spare! It's pretty cool to see how young people can do such amazing things, and when we can use our untapped potential so early in our careers.'
'I think the most daunting part was knowing who was in the audience, executive chefs from a lot of the top restaurants in Auckland and the judges. All of them watching your every move, however, it did encourage me to work a lot cleaner and gave a little adrenaline boost,' says Sam.
Indira Devi: Bronze Medal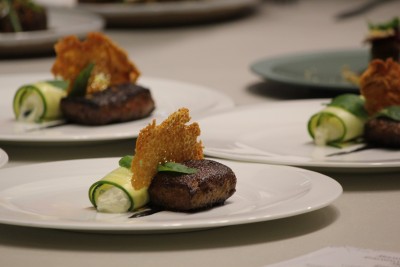 Entrée: Spanish inspired spice-rubbed Lumina lamb with cured zucchini tolls filled with garlic yoghurt and Manchego cubes, black garlic potato and Manchego crisp.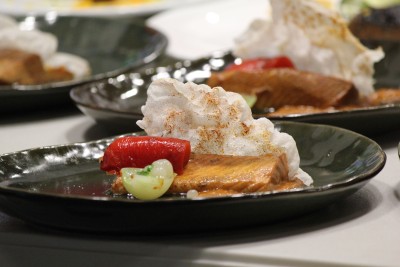 Main: Akaroa hot smoked saffron-glazed salmon with whole spices, citrus, sofrito purée, saffron mist, seafood caviar, rice paper cracker.
Indira is an International student from India and has completed work placement at Movida. Indira commented, 'The most daunting part was the nervousness before the competition. I haven't done anything like this before. It was nerve-racking to cook in front of such prestigious judges and chefs. It showed that the level of importance and attention to detail in cooking and plating was vital.'
Damir Yunussov: Bronze Medal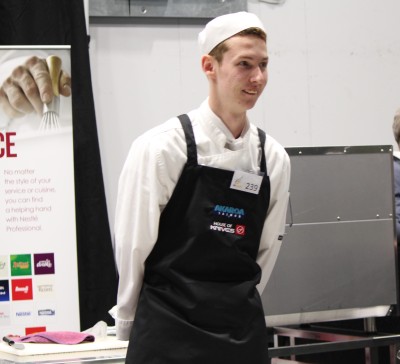 Damir ia anInternational student from Kazakhstan and works as chef at So Hotel, Auckland.
Damir commented: 'I was happy with my dishes, but next time I think they need to be more creative, and I need to show more techniques. All my dishes were on time and I was the first one who presented everything. I was happy enough for my first competition and this experience.'
Entrée: Crusted Lumina Lamb Loin with black garlic aioli, pickled beetroot scale, pear and crushed peanuts.

Main: Pan fried Akaroa salmon with green vichyssoise puree, pickled mushrooms, crispy potato, leek rings, kale chips.
Kevin Than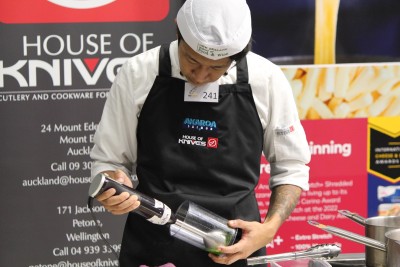 Kevin is an international student from Cambodia.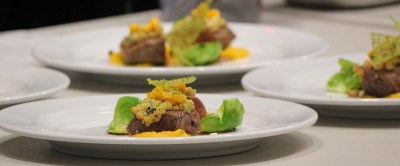 Entrée: Lumina Lamb loin, garlic sauce, pumpkin purée, coriander coral.
Baked Akaroa Salmon, couscous, tomato & capsicum salsa, cauliflower pickle.
Matthias Wong: Bronze Medal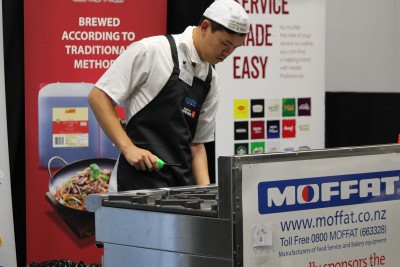 Matthias works as a chef at Soul Bar and Bistro.
Entrée: Lumina Lamb Loin with Black Garlic yoghurt, chilli crunch, seaweed crisps.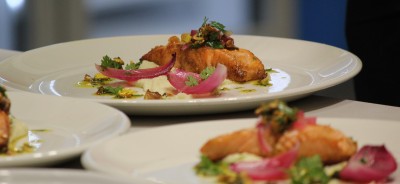 Main: Akaroa Salmon with Potato Cauliflower purée, pickled red onion, curried nuts salsa.
With Chef Finn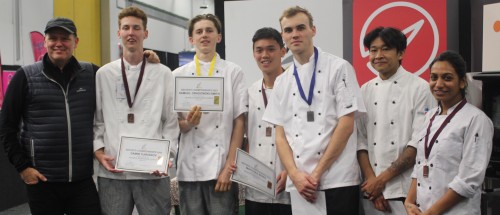 Many thanks to Caitlyn Schroder who took all the photos of the competition.

Well done.
Celia Hay
July 3 2023