Mediterranean Lunch with Advanced cookery students
This week our Advanced cookery students designed a three-course menu that includes a fish dish, involving the filleting of a fish, freshly made ribbon pasta, and dessert - all with a Mediterranean theme.
This is one of our most popular projects for our students to design a three-course menu, cost a budget, and then prepared for a friend to savor and also get to sit down and eat with them.
Along with our cookery students, our Food & Beverage Level 4 students showcased excellent wine and food service for our guests.
Below are some of the creative menus and delicious dishes prepared by our students.
Ethan's Mediterranean lunch menu & dishes
Ethan preparing for lunch service and his menu.

Entrée: Pan-fried gurnard served with fresh garden salad and caper and balsamic vinaigrette
Main: Beef cheek and spinach ravioli with a rich and creamy olive and tomato sauce
Dessert: Caramelised plum upside-down cake with chantilly cream
Jazzmine's Mediterranean lunch menu & dishes
Jazzmine preparing for dessert and her lunch menu.

Entrée: Pan seared fish with salsa and mesclun salad
Main: Ribbon pasta with a braised chicken sauce, leeks & mushrooms
Dessert: Pantespani with lemon syrup, whipped cream, and almonds
Kyle with his Mediterranean dishes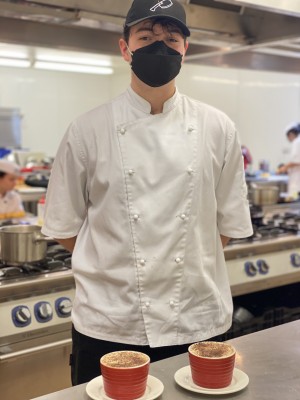 Kyle with his Tiramisu and ready for dessert service.

Entrée: Snapper with cherry tomatoes
Main: Beef cheek ragu with handmade ribbon pasta
Dessert: Tiramisu with coffee liqueur
Lidia's Mediterranean lunch menu & dishes
Lidia prepping for dessert service and her Mediterranean lunch menu.

Entrée: Braised beef cheek ravioli on spinach nests with slow cooked red wine & tomato sauce, parmigiano tule
Main: Pan-seared tarakihi on grilled eggplant hibiscus pickled beetroot, fire roasted tomato vinaigrette, whipped feta & basil oil
Dessert: Semolina cake soaked in orange blosson syrup, rosewater sorbet, pistachio crumb & candied orange peel
Rebecca's Mediterranean lunch menu & dishes
Becky preparing her ravioli dish and her lunch menu.
Entrée: Pan-seared snapper, lemon, oregano, garlic with a mesclun salad
Main: Ravioli in beef cheek ragu, spinach, and ricotta, mushrooms
Dessert: Filled choux pastry, flavors inspired by Baklava from Greece, Tiramisu from Italy, and the Spanish flan from Spain
Tatto's Mediterranean lunch menu & dishes
Tatto garnishing his dish and his lunch menu.

Entrée: Mediterranean fish with tomato and tapenade
Main: Ravioli with creamy sauce
Dessert: Baklava with yogurt
Urisha's Mediterranean lunch menu & dishes
Urisha with her apple roses and her lunch menu.

Entrée: Pan seared snapper with Italian herb roasted vegetables
Main: Fettuccine Al Burro with handmade pasta
Dessert: Apple roses with raspberry coulis