Top French Wine Scholar Nasha Nao Nakano
Congratulations to Nasha Nao Nakano, FWS, for achieving highest honors in the French Wine Scholar exam with The New Zealand School of Food & Wine.
About Nao:
I don't hold a professional wine job (I am a nurse!) … but I am incredibly passionate about wine and I'm sure this alone will take me on a long wine journey in my life. Wine is a simple way to make me happy and have a good time.

I enjoy taking a moment to smell, taste and feel "the LIFE of wine" in each glass. I always like to celebrate the balance and interactions of art and science - more specifically, finding the beauty in art!

I had previously completed the WSET Level 3 in 2020 and the Certificate in New Zealand Wine (Advanced) in 2021.

With the FWS programme, I decided to take the classroom learning option instead of the online course. In order to complement the classroom experience, the FWS E-learning modules with full audio narration and review quizzes for self-evaluation were a great tool to learn powerful perspectives. They enabled me to explore French wine with confidence. However, I took most advantage of the classroom learning, such as engaging with my other classmates, seeking individualized attention, and making the most out of hands-on learning. I am constantly seeking to learn more. I am now looking to take the Spanish Wine Scholar Programme and in the future, the WSET Diploma course.

I welcome every opportunity and experience within the wine industry.

Through the FWS programme, I really enjoyed focusing on each French wine region to expand my knowledge. Particularly, I was able to experience how each type of wine is dependent on multiple aspects - history, climate, geography, topology, geology, viticulture and wine production. If time allows, I would really like to visit France with my FWS knowledge.

With the knowledge and skills I have gained from this course, I am thrilled to continue to discover wines from other regions of the world and to share my wine passion with other enthusiasts around the world.

Throughout my wine journey, I always want to have the ability to hear a story from a glass of wine!!
Next dates - Click here for more information.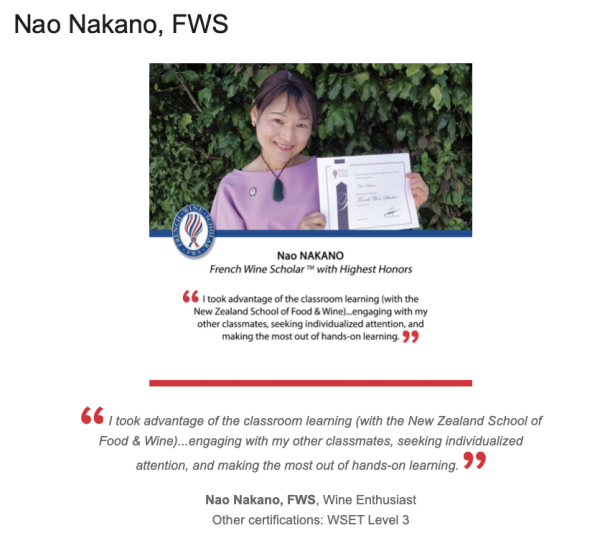 https://www.winescholarguild.org/top-exam-scorers/fws/nao-nakano-fws