Cooking up a storm

It's hard to appreciate the challenges, the demands, the curveballs along with the emotion that is part of cooking to a deadline and with the added challenge of cooking in a competition in front of guest chef judges.
There is a lot of work in the planning and preparation, but at the same time, this work is exciting and (hopefully) fulfilling.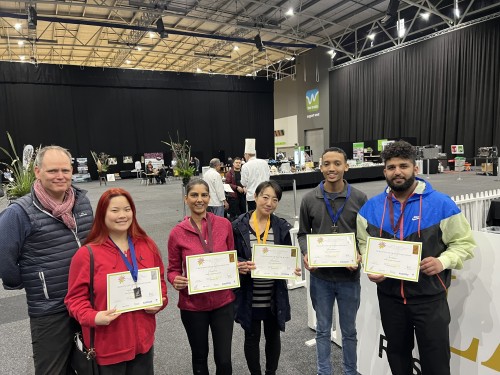 Six of our NZQA Diploma Cookery students signed up for the New Zealand Hospitality Championships – previously known as the Culinary Fare run by the New Zealand Chefs Association at the recent Hospitality Hui. One student got bowled by Covid so five of our Diploma Level 5 chef-students offered up their best work on September 19, 2022.
Planning took place over the previous six weeks where the students formulated their dish concepts. Practical cooking sessions enabled them to test and try out their culinary ideas and refine their dishes.
These efforts were boosted by the reflections of our Head Chef Finn Gybel and his stories of when he had competed in Denmark nearly 20 years ago. Back then, our Chef Finn was sous chef to René Redzepi, now rated as one of the great chefs of the world.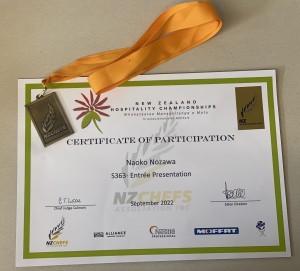 We won a Gold, 2 Silver and 2 Bronze medals.
Pressure is on
The cooking competition concept that we selected was to prepare a cold entrée or cold dessert. Four chefs went for the entrée while Chef Pani focused on the dessert option.
Chef Naoko's dish a Picnic of Tuna with tuna tartare, seared tuna, and cured tuna sushi with miso mayonnaise foam and avocado purée.
This complex dish included a variety of techniques to showcase tuna and was presented in a creative and elegant style.
Naoko was awarded a gold medal for this dish.
Chef Pani, an international student from Thailand, prepared a chocolate mousse, wrapped in a cone of chocolate along with mandarin segments as a garnish.
Pani made the innovative step of changing her chocolate mould on the morning of the competition. Crisis. Working with a mould that she had not practiced with is risky.
The tempered chocolate did not come out according to plan however Pani took deep breaths and kept her cool. She plated up.
You can see her attractive presentation and while she will never again try to change the mould on the competition day, the result was very good. Pani gained a silver medal.
Chef Urisha's Flame torched scallops with seared beef tenderloin and smoked portobello mushroom was accompanied by a beetroot purée, a gel of silverbeet, and truffle tuile.
Unfortunately for Urisha, the tuile was omitted when presenting the entrée but when she realized, she was not allowed to place it on the dish, even though there was ample time left...
Urisha was awarded a bronze medal for this dish.
Chef Ethan created an entrée featuring a Pan-seared scallop with smoked cauliflower purée, apple and cauliflower gels, and nasturtium oil.
This dish combined the smoking of cauliflower on the hob, using manuka wood, along with a delicate, pan-seared scallop and intriguing nasturtium oil and gels. Ethan was awarded a silver medal for this dish.
Chef Levi's dish of cured then poached Akaroa salmon with avocado purée, pickled fennel spring salad, apple gel brought together many of the cookery techniques we have been learning about including curing, poaching and pickling of vegetables.
Levi was awarded a bronze medal for this dish.
Congratulations to you all.