Celia Hay gains FWS and Society of Wine Educators Certification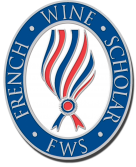 CELIA HAY IS THE FIRST NEW ZEALANDER TO BECOME A FRENCH WINE SCHOLAR AND SOCIETY OF WINE EDUCATOR
Global networking, personal investment in knowledge and a passion for high quality education have led to Celia Hay becoming the first New Zealander to gain two new wine qualifications, one from France and the other from the United States.
Hay is the founder and director of the NZ School of Food & Wine in Auckland and she describes the French Wine Scholar Guild and the American Society of Wine Educators qualifications as a test of detailed wine knowledge. Hay had to sit two exacting high level exams that cover often obscure details on unfamilar grape varieties and wine regions from every corner of the world.
Hay now plans to share this knowledge with those working in hospitality as well as wine enthusiasts by teaching these programmes at her Auckland based, NZQA approved school
"I see the French Wine Scholar (FWS) programmes will complement the London based WSET Wine & Spirit Education Trust certificates and Introduction to New Zealand Wine programmes that we currently offer. FWS will run as a one-week (5 days) full time course within our WSET Level 3 programme. In addition, people who have already gained the WSET awards will also be able to study the FWS as an independent qualification. The first course runs from January 9 – 13, 2017.
The French Wine Scholar programme covers French wine law, grape varieties, viticulture, winemaking and all of the French wine regions including Jura and Corsica. Developed and administrated by the Wine Scholar Guild with the support of the French Ministry of Agriculture, this specialised programme is designed for advanced students of wine; wine professionals or serious wine enthusiasts.
The Wine Scholar Guild also offer qualifications for the Wines of Italy and the Wines of Spain which will be offered in the future.
"The Wine Scholar Guild has created a series of dynamic new qualifications - the FWS is the original, which has only been around for half a decade, and the Spanish one is new this year."
Another exciting aspect to the Wine Scholar Guild is that it works directly with producers and offers insightful tours to French wine regions, says Hay.
"These tours are often with illustrious wine personalities. You can go to Champagne and other regions, meet people and taste their wines, so for Kiwis who love travel, the wine tourism aspect works both ways, adding depth to a travel experience and a history and personality to what you're drinking."
"The great part about wine education such as this is that it opens doors globally because it offers excellent networking opportunities into a collegial community of wine-minded people all around the world."
The New Zealand School of Food & Wine will be the exclusive provider of the excellent French WSG exams and qualifications in New Zealand.
http://foodandwine.co.nz/wine/french-wine-scholar/
https://www.winescholarguild.org